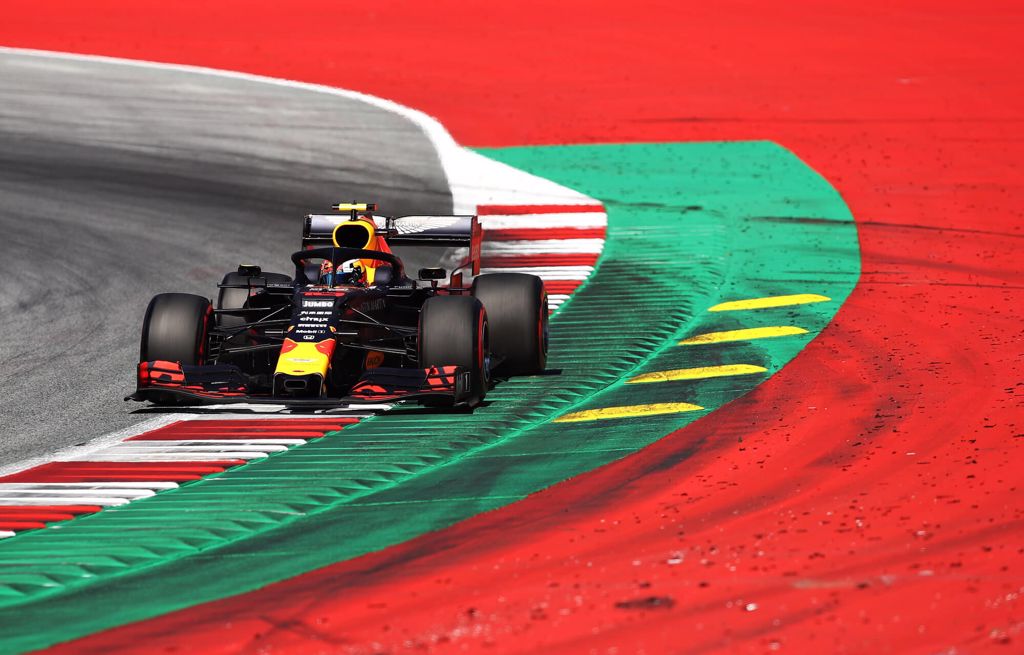 Momentous day for Honda with F1 victory in Austria
It was a momentous day for Honda as Aston Martin Red Bull Racing secured our first win since returning to Formula 1 in 2015 courtesy of a stunning drive from Max Verstappen in Austria.
Starting from second place, Max had a difficult start and dropped to seventh, one position ahead of Pierre. The two ran in tandem through the early laps before Max started making progress, overtaking Lando Norris and Kimi Raikkonen to move into the top five.
A long first stint saw Max lead for a spell, and after pitting for hard tyres on lap 31 - later than his rivals ahead - he re-joined in fourth place ahead of Lewis Hamilton. From there, Max was on a charge and fought his way past Sebastian Vettel and Valtteri Bottas to run second, before hunting down Charles Leclerc. A thrilling battle saw the pair go wheel-to-wheel, with Max finally taking the lead with three laps remaining and achieving our first victory with Red Bull.
Pierre's first stop came earlier in the race, as he stopped on lap 25 and was unable make up any places through strategy. He found his way ahead of Kimi Raikkonen but was then sandwiched between the two McLarens, still picking up six points with seventh place.
In a race where all 20 cars finished, Toro Rosso struggled to make progress through the midfield but were within striking distance of the points for much of the race.
Alex started on mediums and pitted on lap 35 for hard tyres, chasing Lance Stroll for much of the race and eventually being classified 15th. Daniil was hampered by going for a high downforce set-up but being blocked in qualifying, making any recovery tough. He followed a similar strategy to Alex - pitting for hards on lap 32 - but was unable to fight through the midfield and finished in 17th place.
In the past two races, both Toro Rosso drivers have taken penalties to benefit from the Spec 3 PU. With that difficult situation behind them, they can now focus on fighting hard in the mid field, starting at the British GP in two weeks' time.
Max Verstappen: "It was an incredible race and I'm so happy to take the Team's second victory at our home Grand Prix. It was a shame at the start as I triggered anti-stall and dropped back to seventh. From there onwards the pace was really good, I stayed calm and kept pushing hard. The second stint was decisive for us as the car really came alive. Once I passed Valtteri I thought I could have a go for the win as our pace was so strong but you never know. I just kept pushing, drove flat out and didn't give up. We passed Charles with a few laps to go so I'm extremely happy. The move was close racing and if you can't make moves like that I think it is better to stay at home. I want to say a big thank you to everyone at Aston Martin Red Bull Racing, all weekend we have been working really well and the upgrades seem to have worked. Thank you to all the crew here, everyone at the factory and of course Honda, it's not been easy for them over the past years but to win for them today is just incredible."
For more information, please contact your local Honda dealer.
News