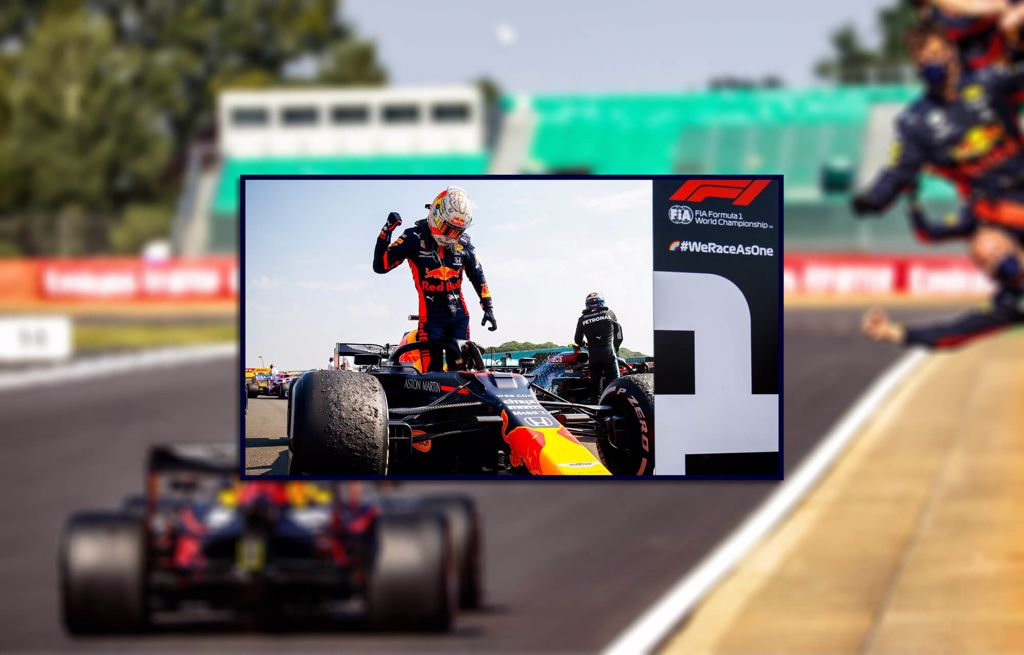 Verstappen Takes First Win of 2020 At The 70th Anniversary Grand Prix
Saturday's qualifying session proved crucial, with Max getting through to Q3 on the hard tyre so he could start the race on that compound. Starting fourth, he immediately jumped to third place off the line and put pressure on the two Mercedes cars ahead.
Max was able to run much longer as the two cars ahead pitted, opening up a comfortable lead in clear air. Once he made his first pit stop for medium tyres at the end of lap 26, Max emerged just behind leader Valtteri Bottas and duly overtook him at Luffield to regain first place, From there he was comfortable, pitting again only six laps later to switch back to hard tyres at the same time as Bottas to cover off any undercut potential.
While Lewis Hamilton ran long in the middle stint, Max had plenty of pace in hand and increased his speed just as Hamilton came into the pits for his final stop, leaving Max to cruise home with an advantage of more than 11 seconds to take the ninth win of his career, and our fourth in partnership with Red Bull.
Alex had another excellent drive to pick up a top five finish, climbing four places from his starting position. Alex was on the medium tyre at the start and switched to hards on lap six, making good overtaking moves on track - including around the outside of Lando Norris at Luffield - before pitting for another set of hard tyres on lap 30. From there he had a clean run to the end, closing down and passing Lance Stroll for fifth place with just two laps remaining.
Three of the four Honda-powered cars scored points as Scuderia AlphaTauri's drivers were separated by just 0.9s at the finish line. Daniil started on the hard compound from 16th place and pitted for the first time on lap 19, switching to a set of mediums on lap 35 and climbing up to tenth to pick up the final point on offer.
Pierre had started from a strong seventh place and held position for the first stint, but, after pitting on lap 7 for hard tyres he lost positions through the pit stop phase. After pitting again lap 23, Pierre ran a long final stint on hards and closed up on Daniil but had to settle for 11th spot, directly behind his team-mate as they crossed the line.
Toyoharu Tanabe, Techincal Director Honda Racing F1:
"It is fantastic to have taken our first win of the season at this special 70th anniversary race, at Aston Martin Red Bull Racing's home track, which is also very near to our Milton Keynes headquarters. It also has further significance for us, as just a few days ago, on 5th August, it was the anniversary of the death of our founder, Soichiro Honda, who passed away in 1991, making it an even more emotional win. We knew from Friday that this race would be tough on tyres, with a softer range of compounds than the previous week's choice at the same track. That proved to be true, but thanks to an excellent strategy and Max's ability to make it work, we were able to take this win which is very much down to teamwork from everyone involved. Honda's PU contributed to the victory, giving good performance and running reliably. Alex had a difficult race starting from ninth, but fought back well, while Daniil came from far back to tenth so that Honda had three cars in the points. Pierre had shown great pace all weekend, however his strategy did not work out for him, but I am sure he will get the result he deserves soon. It took a while to get our first win of the year, but I'm sure our fans will be delighted and now, as usual, we will continue to work hard to try and get more wins soon."
Max Verstappen, Aston Martin Red Bull Racing, 1st:
"It's a great day and I'm very happy with the result as we did everything really well as a Team. The race showed we had the right strategy after our decision to qualify on the hard tyre and I'm pleased it paid off. I think the length and pace of our first stint was the key to being competitive as the mediums don't last that long, so starting on the hard was definitely the right call. We can see the car works well on softer compounds, especially in the race, and it looks after its tyres. When you are able to overtake and pull away from a Mercedes it is really satisfying. Of course, I hope this will happen a lot more throughout the season and we'll keep pushing them hard even though they have been the dominant team up until now. We'll keep pushing, we have a really good Team spirit and I love that we never give up and do take risks. We will enjoy today because everyone deserves it after all the hard work, before focusing our attention on next week's race in Barcelona."
Alex Albon, Aston Martin Red Bull Racing, 5th:
"I am happy with today's race and the car was unbelievable. At the beginning of the race it was tricky to overtake with the DRS train but once we had clear air we had a really good chance to get through the field. I was a bit surprised by the balance and race pace today, it was so good, so we need to go away and understand why. It shows we have a lot of potential in the car, it's just hard to unlock it sometimes, but we are good in these conditions so now we know to find out why. It was a good finish to get fifth and hopefully we can now bring some more performance to next week's race."
Daniil Kvyat, Scuderia AlphaTauri Honda, 10th:
"I'm very satisfied today, I felt like it was a mega race. As a team we did a great job, we were able to squeeze everything out of the car and I think today's result was the maximum on the table. We took every opportunity that came our way and, unlike last week, we were able to capitalize on them. I generally feel quite strong on Sundays, but we definitely need to put it together on Saturdays, as starting the race from a better position would make things much easier to regularly fight for points. However, starting from P16 and finishing tenth to score one point makes us happy today."
Pierre Gasly, Scuderia AlphaTauri Honda, 11th:
"I had a good start and also felt quite comfortable with the tyres on the first stint, so I was a bit surprised when I was called in for the first pit stop earlier than we had planned before the race. I think we tried to cover Albon but actually, that wasn't really our race. Once back on track, we found ourselves in traffic and I had to push more than I would have liked on the tyres to make up a few positions. This caused massive blistering after a few laps, so from there on the race was pretty much a nightmare. I'm quite disappointed because I think there was something more to achieve today. We need to review what we could have done better strategy-wise and get back into the points in Barcelona."
For more information, please contact us.
News