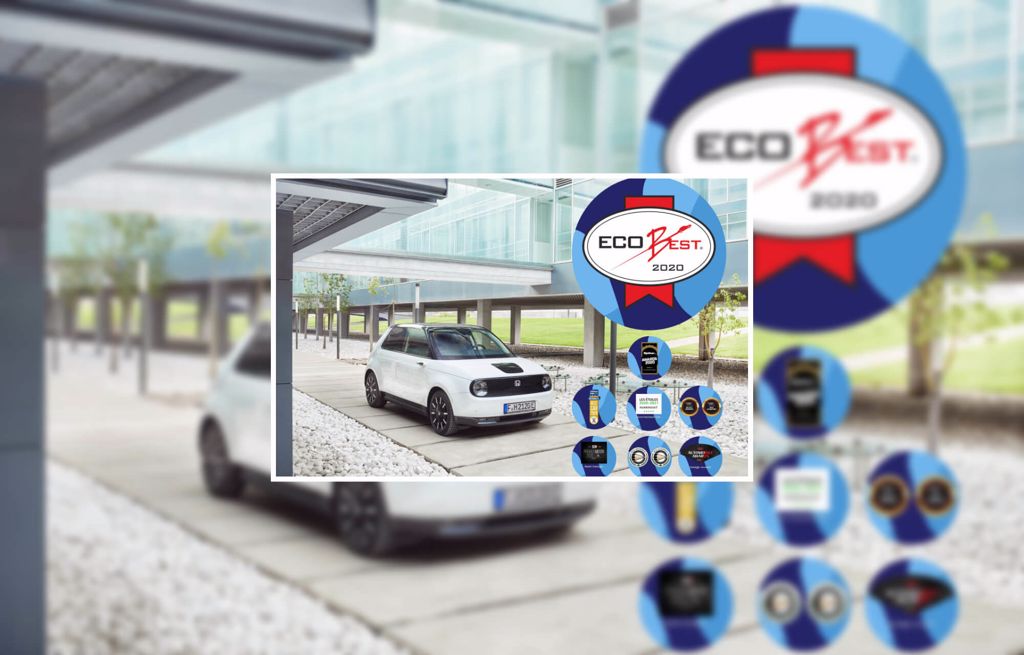 Honda e adds AUTOBEST 'ECOBEST' Award to Growing Collection of International Accolades
Honda e wins ECOBEST category of the prestigious AUTOBEST awards
Accolade recognises Europe's most relevant green technologies and products
Honda e continues to receive Europe-wide recognition for design, connected technologies, e-mobility and driving dynamics
Ongoing success endorses Honda's commitment to creating advanced and beautiful products, designed without compromise
The Honda e has won the ECOBEST title at the AUTOBEST 2021 Awards, a prestigious accolade that recognises the most relevant green products, technologies or projects in Europe. It is the latest in a series of European awards for the Honda e, across a range of design, technology and automotive categories.
The ECOBEST title, Honda's first ever AUTOBEST success, is the latest prestigious accolade bestowed on the Honda e by top European motoring organisations since its launch in 2019. Other triumphs include victories in the Best Car Award from Autogids in Belgium, a 'Connected Car' award from Les Numériques in France, and a 'Best Design' award in the Axel Springer Motor Awards in Spain.
The Honda e also picked up two awards in the Denmark Car of the Year Awards and also celebrated dual honours in Poland's 'Best of Moto' awards. Further recognition arrived courtesy of France's Automobil Awards by Motul and also from UK's TopGear.com.
The Honda e's full roll of honour is as follows:
AUTOBEST 2021 Awards - 'ECOBEST' title (Europe)
German Car of the Year 2021 - overall winner; 'New Energy' category (Germany)
Red Dot Design Awards - 'Red Dot: Best of the Best Car Design' & 'Smart Product' (Europe)
News International Motor Awards 2020 – 'City / Small Car of the Year' (UK)
Autocar Best Car Awards - 'Best Car Tech' (UK)
Autogids Best Car Awards – 'Small Electric' (Belgium)
EuroCarBody Awards 2020 – Winner, Volume Segment (Germany)
The Les Numériques Digital Star 2020-2021 for 'Connected Car' (France)
Axel Springer Motor Awards - 'Best Design' (Spain)
Denmark Car of the Year 2021 Awards – The Innovation Award; The Car-Joy Award (Denmark)
The Best of Moto Awards: Alternative Drive; Design (Poland)
Automobil Awards by Motul: Design (France)
2020 TopGear.com Awards: City Car of the Year (UK)
'Best Cars of 2020' award from Vezess.hu (Hungary)
The Honda e continues to set new benchmarks for contemporary car design and advanced e-mobility in awards programmes across Europe and beyond. Designed without compromise and with a focus on functionality and usability, the Honda e features a seamless, sleek and modern appearance, with cutting-edge technology and advanced intelligent connectivity to keep owners in sync with everyday life.
The Honda e is now available at a selection of Honda Dealers nationwide.
News