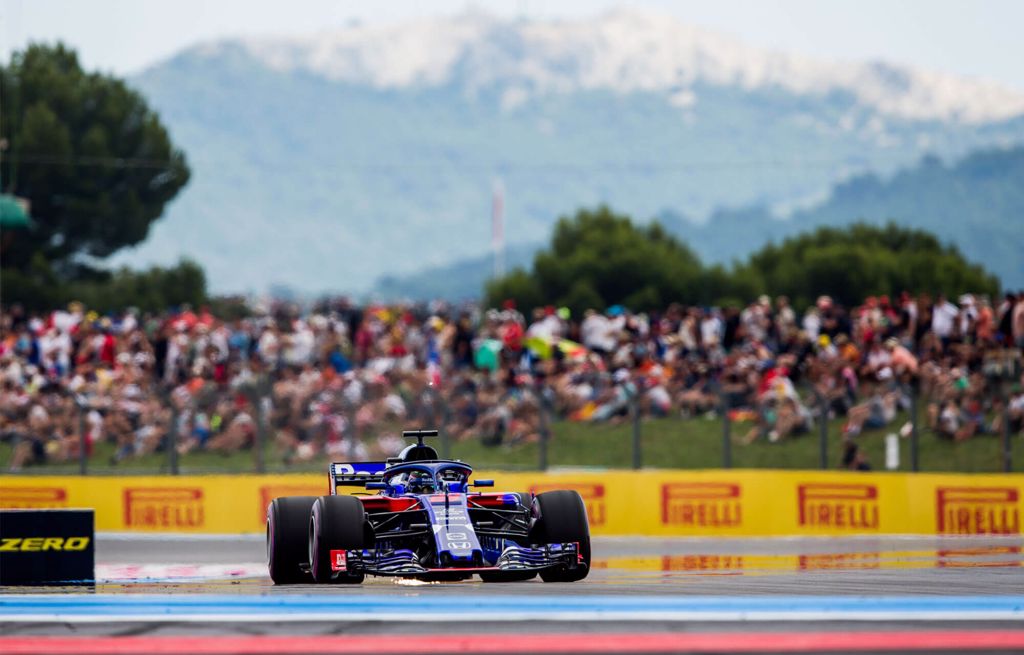 Uphill battle for Toro Rosso-Honda in France
In similar fashion to the last race in Canada, today's French Grand Prix saw us lose one car on the opening lap and another fight through the field from the back of the grid but ultimately fall short of points. Starting from 14th, Pierre avoided an incident at the front of the field at the first corner and was looking to make progress at Turn 4 when he was involved in a collision with Esteban Ocon that resulted in both cars retiring from the race.
While Pierre's home race was over, Brendon managed to steer clear of the opening lap clashes and started to make his way through from the back of the grid after fitting a new power unit this weekend, but on a circuit that is tough for overtaking it was difficult to make progress. A solid drive saw him climb up to 14th place but a late Virtual Safety Car prevented him for gaining another position in the closing laps. We will now continue investigations into the issue that Brendon suffered on Friday ahead of the next race in Austria next weekend.
Brendon Hartley
"It was a clean and good race, but starting last it was hard to make much headway. I had a good battle with Marcus early on, but he got me back during the pit stops. I kept out of trouble on the first lap - a couple of cars cut the chicane and I didn't make up much ground, but at least I was able to keep the car safe. I wish we could have made some more progress but ultimately we didn't have the pace today. I moved forward and got by the two Williams, but I don't think there was much more we could do in the race, it's tricky when you start at the back."
Pierre Gasly
"I'm very disappointed, it was tough to finish the race after just three corners. In Turn 3 I went on the inside and I thought Esteban had seen me when I saw he closed the door I couldn't avoid the collision. It's a shame to have this incident – especially at the French GP with two French drivers. It's very difficult to take, I really wanted to do well this weekend and it's definitely not wanted from my home race."
Toyoharu Tanabe
"This was a complicated weekend and it was extremely disappointing for us and also for all the French fans, that Pierre's race was over just a few moments after the start. Brendon, who started from the back of the grid because of the penalties incurred, moved up the order as others fell out and he also passed a few cars. A race to forget, but at least we can try and do better, starting this coming Friday in Austria."
For more information, please contact your local Honda dealer.
News