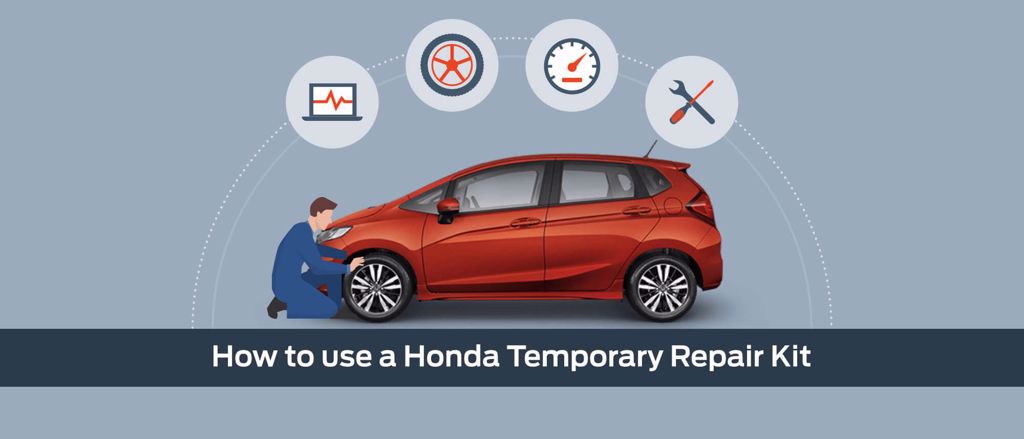 How to use a Honda Temporary Repair Kit in the event of a puncture
Here at Honda we know that sometimes the unexpected, like a puncture, can happen. All new Honda vehicles now come with an easy to use Temporary Repair Kit which is ideal for temporarily repairing a small hole in the treaded area of the tyre. The repair kit is located in the boot of your vehicle and it should be sufficient to repair approximately 85% of all punctured tyres.
In the other small number of cases it may be necessary to call for Roadside Assistance. As a Honda owner you have access to free 24 hour assistance for the first three years of the life of the vehicle, please call 1850 85 85 11 for Roadside Assistance.
Some people aren't sure about the benefits of using the tyre repair kit versus the conventional spare tyre and tools. In fact many customers have reservations about changing a wheel however the tyre repair kit is relatively easy to use and it's also worth noting that using the kit takes about half the time of putting on a spare and its much lighter, cleaner, and easier to work with. In addition, the lighter weight of the kit versus a spare wheel also contributes to the overall fuel efficiency of the vehicle. Also the smaller size of the kit means more room for storage, and that's something you can use every day compared to a spare tyre that you may never use.
Although the kit contains step by step instructions we have also created a short video to provide you with a better understanding of how to use the Honda temporary repair kit in the event of a puncture.
Please note there may be some slight variations between the different Honda models and temporary repair kits provided.
JAZZ
How to use a Honda Jazz Tyre Repair Kit
CIVIC
How to use a Honda Civic Tyre Repair Kit
HR-V
How to use a Honda HR-V Tyre Repair Kit
For more information on how to use your temporary repair kit or if you need further assistance with your Honda, please contact your local Authorised Honda Dealer today.